Free Fur All – We Bare Bears Minigame Collection
1.0.5
Bear Game – Have Some Fun with the Bears
Are you an animal lover? Do you like watching the 'We Bare Bears' cartoon? If yes, then you will love this bear game for sure. Free Fur All – We Bare Bears is a fun game in which you get to play with three bear brothers and help them out on their adventures. Meet Ice Bear, Panda, and Grizz. They are brothers and have their own interests in life. Your aim in this game is to assist the bears in their activities and have loads of fun in the process. The kid-friendly gameplay and simple controls make it an easy game for the children to play on their own. Its graphics are quite good too which enhances the gameplay experience manifolds.
Free Fur All – We Bare Bears provides six different mini-games to you. Each bear has two mini-games dedicated to them. These mini-games are all different from each other and offer a new activity for you to do. Grizz appears in two mini-games named The Wheel Deal and Sample King. Ice Bear, on the other hand, features in Way of the Bear and Flippin' Awesome. Photo Finish and Bearista are the mini-games in which you get to play with Panda. These mini-games are designed keeping the interests and personalities of the three bears in mind. The controls for each mini-game are extremely simple and involve tilting the device or swiping. You even get hints which help you in learning how to play the games.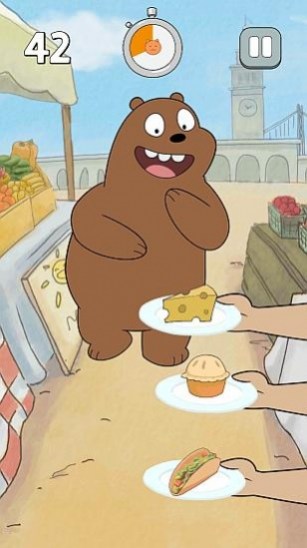 You are given tasks in each mini-game in this bear game. There is a limited time available to complete the tasks assigned to you. For instance, in Sample King, you have to continue feeding Grizz by swiping at the foods that appear. Each food you feed him gains you coins until the clock runs out. So, you need to feed as many foods to him during this time limit to get a high score. Similarly, the task in Bearista is to ensure that the right coffee is poured into the cups that appear in front of you within a specific period of time. If you are able to satisfy the customers within the time limit, you get to continue playing and achieve an even higher score. Your score determines the number of coins you get.
Free Fur All – We Bare Bears provides a multiplayer mode to you in addition to the single-player mode. There are two options available in the multiplayer mode. The first one is Pass 'n' Play. In this mode, up to three people can play one after the other on a single device to see who scores the highest. The second one is Connect 'n' Play. In this mode, three people can play simultaneously by connecting their devices. This bear game has a shop section too which contains awesome costumes, decorations, and accessories for each of the six mini-games. You can unlock all of them by spending the coins you earn by playing the mini-games on offer.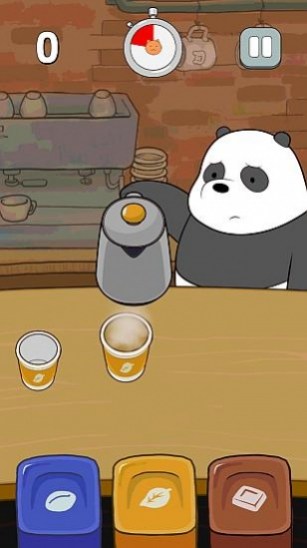 Features
Various mini-games to play
Each mini-game offers something new
Hints available to learn how to play the games
Earn coins for completing the tasks assigned
Get extra coins for perfect execution of tasks
Limited time available to perform the tasks in
Try to score as highly as possible in each mini-game
Two different multiplayer modes available
Find cool costumes, decorations, and accessories in the shop
Conclusion
Free Fur All – We Bare Bears is a gaming app which is ideal for kids and fans of the We Bare Bears cartoon. It offers various mini-games which are fun and easy to play and allow the children the chance to get to know the bear brothers in a better manner. It is an entertaining bear game and is definitely worth having on your phone.
---
Add a review
Tell us your experience with
Free Fur All – We Bare Bears Minigame Collection
1.0.5
RELATED PROGRAMS
Our Recommendations
---
---
---
---